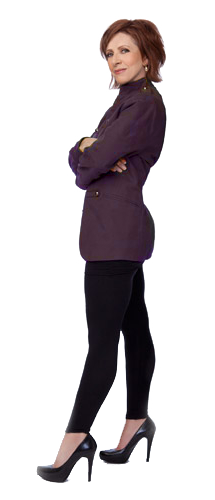 Jackie went from dancer to choreographer to director, all the while traveling the country teaching. She conceived the popular girl group, "A Sleight Touch" which opened for some of the biggest recording stars in the industry. They eventually became a headline act themselves, and traveled the world appearing before crowds of up to 32,000.
Jackie has worked with stars including Rod Stewart, Paula Abdul, Barry Manilow, Expose, Stacey Q, Yvonne Elliman, David Hasselhoff and Barbara Eden. She was staff choreographer for several TV series' and her commercial list includes Burger King, Levi's, McDonalds, Polaroid, Honda and more. Jackie's dance groups "A Sleight Touch" and "Boys' Club" each won seven shows and ultimately the Grand Championships, on the 80's television phenom, Star Search. Jackie was also the innovator of the fitness trend, "Freedance," that was taught in health clubs all over the country. Still, Jackie's greatest loves are her sons, Joshua and Aaron.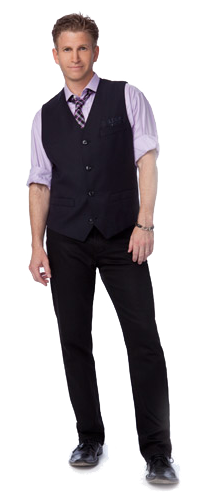 Dave came to the L.A. dance scene from San Francisco after having won the grand championships on both Dance Fever and American Bandstand (maybe you saw him speeding around in that red car he won!)
His credits include Friends, Wild Wild West, Lambada, Titanic, and the children's show Reading Rainbow. He also danced with megastars Diana Ross and Barbara Mandrel. Along with dancing, Dave worked as a print model for GQ Magazine, Nike, Ocean Pacific and Reebok. He was also featured in commercials, on billboards, and on posters as the face (ummmm buns) of Levi's Jeans. (THAT'S where I know you from!)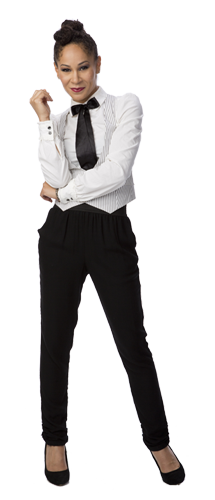 Ayodele Casel is a native New Yorker and has worked professionally as an actor and tap dancer over the past thirteen years. She began her professional training at New York University's Tisch School of the Arts and is also a graduate of The William Esper Studio in NYC.
Hailed by Gregory Hines as "one of the top young tap dancers in the world today," Casel has made quite a mark on the tap dance world. Her work as a choreographer has earned her commissions from Aaron Davis Hall/Harlem Stage and the Apollo's Salon Series, where she presented "Diary of a Tap Dancer". She was also selected by acclaimed composer Rob Kapilow to collaborate on a Tap dance concerto which premiered at Lincoln Center for the Performing Arts. Most recently, Ayodele and dance partner Sarah Savelli co-choreographed "Tap Into Peace;" a show with the incredible music of Stevie Wonder as its inspiration and soundtrack. The show has been presented at NY City Center's Fall for Dance and Playhouse Square in Cleveland. Tandem Act Productions, co-founded with Sarah Savelli, is also the producer of "Tappy Holidays!" which is New York's premier Annual Holiday Tap show.
Ms. Casel's television and film credits include "Third Watch", "Law and Order", "Savion Glover's Nu York", "The Jamie Foxx Show" and "Bojangles" and in 2006 she originated the role of "The Doll" in "Imagine Tap!".
She has performed at The White House, Carnegie Hall, Radio City Music Hall, Madison Square Garden and Off-Broadway in Savion Glover's Downtown: Live Communication. Ms. Casel also co-choreographed and was featured on PBS' "Rodgers and Hart Story: Thou Swell, Thou Witty". She has been creating and presenting her own works since 1999 in venues that include The Apollo, New York's City Center, Aaron Davis Hall/The Gatehouse, The Lisner Auditorium, Lincoln Center "Out of Doors", Symphony Space, Joyce SoHo, Dance Theater Workshop, The Triad Theater and Joe's Pub at The Public Theater.
Ms. Casel has appeared on the cover of Dance Spirit, American Theater Magazine, The Village Voice and has been featured in many other magazine articles. She has worked and performed with the greatest tap dancers and companies including the late great Gregory Hines, Jazz Tap Ensemble, American Tap Dance Orchestra and Savion Glover as the only female in his company N.Y.O.T.s. (Not Your Ordinary Tappers). Her work has been presented nationally and internationally and as co-founder of Tandem Act Productions and Tap Intensified she continues striving to make Tap Dancing a relevant presence in the arts.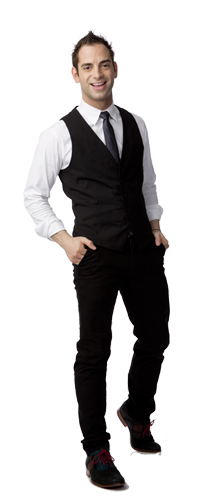 Albert Blaise Cattafi has been dancing since the age of 5, thanks to his sister Eléna, and since that time has established himself as a fine young artist. His training includes the renowned faculties of both The Joffrey Ballet School in New York and Kelly Allen's For Dancer's Only in New Jersey. Albert was a featured soloist in Jeff Amsden's "A Few Good Men… Dancin'," has appeared in an international Coke Zero Commercial, and is a member of Rasta Thomas' Bad Boys of Dance. As a soloist, his dancing has graced such famous stages as The New Amsterdam Theater in NYC, Sadlers Wells Theater in London, and The Lucent Danse Theatre in Holland.
To great acclaim he has worked with Tony Award winning directors Des McAnuff (The Wiz) and Jerry Mitchell (Peepshow), and has assisted some of the countries top choreographers such as Sergio Trujillo (Tony Award winner), Ray Leeper, and Mia Michaels (Emmy Award winner). Albert Blaise has also assisted in the production of major Broadway shows including Spiderman, Tarzan (Holland), and Billy Elliot, and was the assistant choreographer on Franco Dragone's cirque extravaganza "INDIA." He has performed on the Video Music Awards for Florence and the Machine (choreographed by Travis Wall), was a guest artist in the Miss Kentucky pageant, and recently performed as a guest on "So You Think You Can Dance" with the Bad Boys.
Albert believes you should always strive for perfection and never stop smiling! ROCK ON!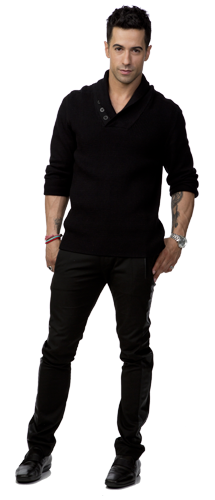 DJ Guthrie hails from Dallas, Texas and made his way to LA after dancing with the Orlando Ballet for 9 years. Since then DJ has appeared in films such as High School Musical 3, 500 Days of Summer, Shrek Forever After and The Greatest Muppet Movie Ever, as well as television performances on Glee, Dancing With The Stars, Jimmy Kimmel Live, The Video Game Awards, American Idol, Bones, Better With You, The CMA Christmas Show, America's Got Talent, The 81st Academy Awards, The 63rd Emmys, CSI: Las Vegas and So You Think You Can Dance. He has also co-choreographed/danced in commercials and live performances for Ford, McDonald's, Taylor Swift, Carrie Underwood, Memorial Hermann and the Dallas Cowboys Cheerleaders. DJ was also a part of the national touring company of "CATS."
He was recently on tour with Glee Live and was a choreographer for the TV show "Your Chance to Dance" on CMT. Aside from working commercially, he teaches master classes for The Edge Performing Arts Center in Hollywood, CA as well as studios and professional companies all over the country. His innovative approach to musicality and movement theory, extensive technical vocabulary and blend of several styles into one has gained him a continually growing following.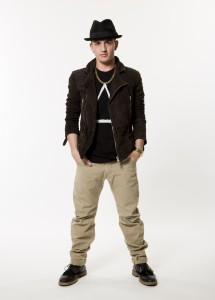 Music videos, national commercials, and international tours are just part of Eddie Moody's exciting and impressive resume. As a member of the boy band, WOW, Eddie toured with Justin Bieber and The Jonas Brothers, and performed alongside Jason Derulo, Ludacris, Katy Perry, Drake, MGK, Twista, B.o.B., T-Pain, Iyaz, and Jay Sean, to name a few. Eddie's style of dance is fresh and infectious, more reasons why he is quickly becoming known as one of the hottest up-and-comers in the hip hop music industry.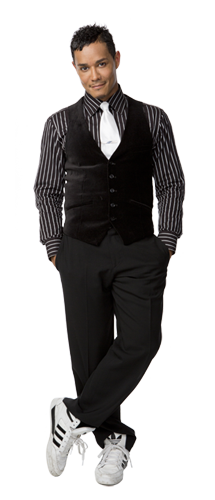 Christian Vincent is a man of many talents that is a success in many areas of the entertainment industry. He is a native of Windsor, Ontario, Canada and holds a B.F.A from Butler University where he graduated with highest honors, cum laude. As a multi-talented performer, Christian first experienced success in the entertainment industry as one of the most working professional dancers. Christian has worked with such artists as Shakira, Ricky Martin, Chayanne, Mandy Moore, Geri Halliwell, Macy Gray, Brian Setzer Orchestra, Ashanti, Prince, Gloria Estefan, Britney Spears, Stevie Wonder and Madonna (where he was dance captain for her Drowned World Tour). Christian has also danced in various films including She's All That, Starsky and Hutch, Rent, The Wedding Planner, Walk Hard "The Dewey Cox Story," Flintstones "Viva Rock Vegas," Ms. Congeniality 2 and GI Joe 2 Retaliation. Even more extensive are his television appearances on Buffy, Disney's Annie, Arrested Development, Baywatch, Mad TV, The George Lopez show, Cold Case and Dancing with The Stars. Additionally, he has appeared in multiple commercials and print ads for Chevrolet, Muscle and Fitness "Hers" and Verizon.
His talents as a choreographer and artistic director can be seen in various projects. He has worked with directors David Fincher and Marc Webb to name a few. Christian's commercial credits include Target, AT&T, Nationwide Insurance, WalMart, Nestle Skinny Cow, CoverGirl with Queen Latifah, Adidas and Subway. His television and film work can be seen in Noah's Arc Jumping The Broom, 500 Days of Summer and most recently on the Global television series Canada Sings.
His acting career is definitely on the rise. Christian appeared off Broadway in Radiant Baby, directed by George C. Wolf. More recently Christian has made appearances on Smallville, Center Stage 2 as Harris Webb, J, J Abrams hit series Fringe, as The Archangel Michael on the ABC Family show entitled Fallen, the Lifetime movie Sins of the Mother, and most recently the Sci-fi show Continuum. Christian is currently working on his Masters degree in dance at University of California Irvine.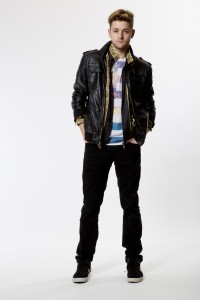 Will Thomas is the youngest of three kids raised in Troy, Michigan.  At 12 years old, Will started dancing and instantly knew he wanted to be a professional dancer. During his first 6 years of dancing, Will was cast in "The Nutcracker" ballet where he was given lead roles for two years and performed with a live orchestra.  He also enjoyed dancing on stage with Disney's Raven, The Jonas Brothers, and The Cheetah Girls. He had the opportunity to dance as a featured performer with Shontelle Layne and Kid Rock in the Detroit Lions Thanksgiving Day NFL half time show.
After graduating high school, Will moved to Los Angeles, California to bring his dreams to life. As soon as he arrived in LA he enrolled in 3 acting classes a week and got right into dance class… he didn't even stop to buy a bed for the first three weeks.
Will's acting/dancing can be seen on the television shows "Nashville"on ABC, "Hit The Floor" on VH1 and in Subway's "Frat House Musical" web series. Ellen Degeneres had Will be a body double for Bill Clinton on her show, which he thinks is pretty funny. You can also see Will in "Real Life: The Musical" on the Oxygen Network, "Parenthood" on NBC and as a contestant on "So You Think You Can Dance" on FOX where he was one of the top 4 guys of season 9.  Soon after that he toured North America with the SYTYCD season 9 cast.
Some of Will's favorite achievements are working with Rihanna on FOX's "X Factor," Taylor Swift for the 2014 MTV/VH1 "Video Music Awards" and Ariana Grande for a flash mob at Universal City Walk.
Currently Will is assisting and teaching for L.A. Dance Magic and has been invited to teach in studios all over North America.  Will continues to train in all styles of dance and acting because there is simply no other way of life for him but what he does. He lives by the motto Dance, Laugh, Love and Repeat.